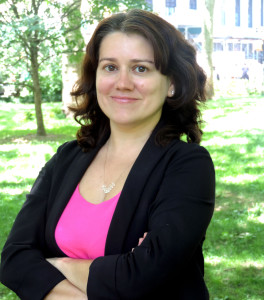 Lissett Ferreira is a sole practitioner who serves as of counsel to the firm and her practice focuses on guardianships, Medicaid/special needs planning, estate planning, elder law, family law, and matrimonial matters.  Prior to starting her own legal practice, Ms. Ferreira spent approximately nine years serving as a law clerk to a New York State Supreme Court judge in a matrimonial part and, subsequently, an Article 81 guardianship part in New York County.  She also worked for one year at The Legal Aid Society as a Law Graduate in the Domestic Violence Law Program.
Ms. Ferreira is certified under Part 36 of the Rules of the Chief Judge to serve as court evaluator, counsel to guardian, guardian ad litem, and counsel to an Alleged Incapacitated Person.  She currently serves as a trustee for various trusts, and as counsel to a not-for-profit guardianship agency in numerous guardianship matters in various boroughs of New York City.
Ms. Ferreira previously served on the Office of Court Administration's New York County Guardianship Advisory Committee and its Sub-Committee on Court Examiners' Training.  In that capacity, she assisted in planning a Continuing Legal Education training for court examiners, and served as one of the speakers at the training.  She also conducted a training on uncontested divorces for the Family Law Task Force at New York Legal Services.  Most recently, Ms. Ferreira co-planned and presented a community workshop on legal planning for persons with special needs.  She also spoke about Article 81 guardianships at the New York State Bar Association's Elder Law and Special Needs Section 2015 Summer Meeting.
Ms. Ferreira received her A.B. from Brown University, with Honors in Portuguese and Brazilian Studies, and her J.D. from Fordham University School of Law.  At Fordham, Ms. Ferreira served as Symposium Editor of the Fordham Law Review for one year, worked as a Summer Associate at White & Case, and published a note entitled Access to Affordable HIV/AIDS Drugs: The Human Rights Obligations of Multinational Pharmaceutical Corporations, 71 Fordham L. Rev. 1133 (2002).  The article can be viewed at http://ir.lawnet.fordham.edu/flr/vol71/iss3/15/.
Ms. Ferreira is admitted to practice in the State of New York and the United States District Courts of the Eastern and Southern Districts of New York.  She is a member of the New York State Bar Association, the Queens Women's Bar Association, the Brooklyn Bar Association, and the New York City Bar Association.
She is available at our offices by appointment and her primary office is located at 299 Broadway, Suite 1310, New York, New York 10007. She can be reached at (212) 926-9771 or by email at Lissett.c.ferreira@gmail.com.